How customers are living your product in digital age
Now we have the power to break the digital/mobile customer experience into steps, and measure & optimize.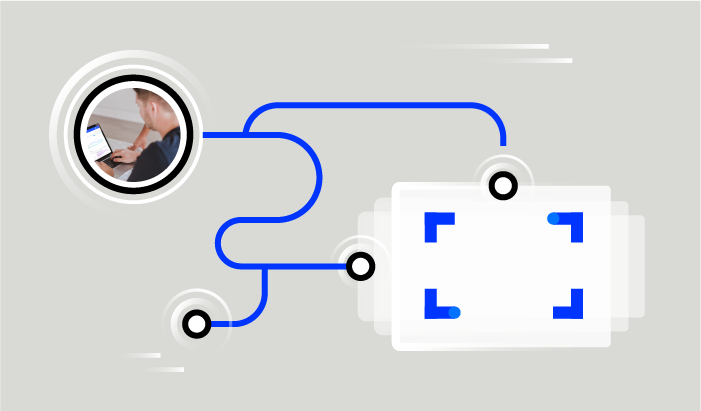 Sign up


to drive your business with the power of data
It's no secret that the customer experience is critical to making a sale. From direct interactions with customers to the subliminal emotions they feel as they use a product, the customer experience is an important determining factor in sales, loyalty, and the survival of your business. As new technology emerges, customers consume your product in different ways and through different channels. And as a result, it's up to you to make sure that their experience with your product or service is just as you'd want it to be if they were finding you through traditional methods. All of this means that today's businesses need to focus on the digital customer experience. Which begs the question:
What is the Digital Customer Experience?
As mentioned before, the digital customer experience really is the same principle as traditional customer experience. What's difference is mostly the number of different channels with which your customers interact with you and your product. Where traditionally you might literally only interact with a product or service at a physical location, now you're interacting with a product on your phone, on your computer, online, offline, and many other ways.
And as a marketer, what's critical about this omnichannel platform experience customers go through, is that they don't differentiate each individual experience of your product. No customer thinks, "the customer service was good but the mobile application wasn't great, I'll still try the product." Instead, they form an impressive of your product that is a collective experience after the omnichannel journey they've gone through with your brand. What this means is that you must ensure that your customers have a consistent, positive, and smooth experience regardless of which channel they're dealing with you from.
Sure, but what's changing about the digital experience?
Many of the most developed countries feature 80% smartphone penetration already, and of course it's reasonable for any brand to assume that those numbers will approach 100% in every country around the world by the end of this decade.
And every study of the mobile experience highlights the same thing – it's not JUST that you need a well targeted app with a solid user experience which is ensured by real time tracking of digital channels. It's that it needs to be seamless across every channel.
In 2016, sales completed using mobile phones accounted for $60 billion worth of sales. But including the number of sales influenced by mobile phones, the number popped to a whopping $1.05 trillion in otherwise offline sales (!), according to Forrester research. This includes customers who were reached through social media, Search engine optimization, SMS, email, or who were reached across a digital channel in a number of ways, even if their ultimate purchase was offline. Of course, over the 2020-2021 COVID-19 pandemic, that has gone up to another level altogether. App store intelligence firm App Annie showed that app usage increased 40% over the pandemic from pre-pandemic levels, and many experts believe that this trend will stay even after the pandemic is over. And keeping up with the trend isn't just about showing that you know your stuff. Now that a larger and larger percentage of revenue share comes directly from digital channels, making sure that your product or service optimizes the digital experience is critical to improving your cashflow.
How to measure the experience in this complex new world
As there are more channels than ever, there are also more ways to measure the customer experience than ever before. Something simple like mobile conversion rates are crucial, of course. But what metrics do you use to suggest conversion rates? Or engagement? Or likely retention? Or simply the extent to which there are ups and downs with using your product?
The answer is remarkably consistent with overall digital marketing strategy. Just as marketing in the modern world requires an omnichannel approach, so too do metrics. The fact is that ALL information is valuable, and each and every metric you collect is telling you a part of experience. Your churn rate, your transactions and revenue, the number of sessions, page speed, surveys, net promoter scores, customer effort scores, and much more are all indicative of how successful you are at giving your customer a positive experience at particular steps of their digital journey. And because all that matters is their overall impressions, which are made up of all these little tiny steps, you need to analyze each of these metrics to come to an understanding of what the customer journey and experience is for your product.
Platforms like Dataroid compile large amounts of data from across digital channels automatically to first collect and unify this data into a holistic vision. This includes interaction with the app, interactions, touches, swipes, and more. From there, a unified user profile can be compiled from the entirety of a customer's digital interactions, along with churn and propensity scores, all of which can then be exported via user-friendly interfaces. Specifically, here's how Dataroid works:
1. Collect & Unify Data
There are myriad digital channels and a practically incalculable amount of data… unless you're professionals at bringing it all together. This includes interaction with app components like click on buttons, checkboxes, toggles, radio buttons, and text edits. Or onscreen interactions like swipes or taps, and of course it includes performance issues like http call attempts, network errors, or crashing. 
All of this leads to a unified User Profile, complete with unique customer information, all digital interactions, churn and propensity scores, and transactions, along with other data mixed in.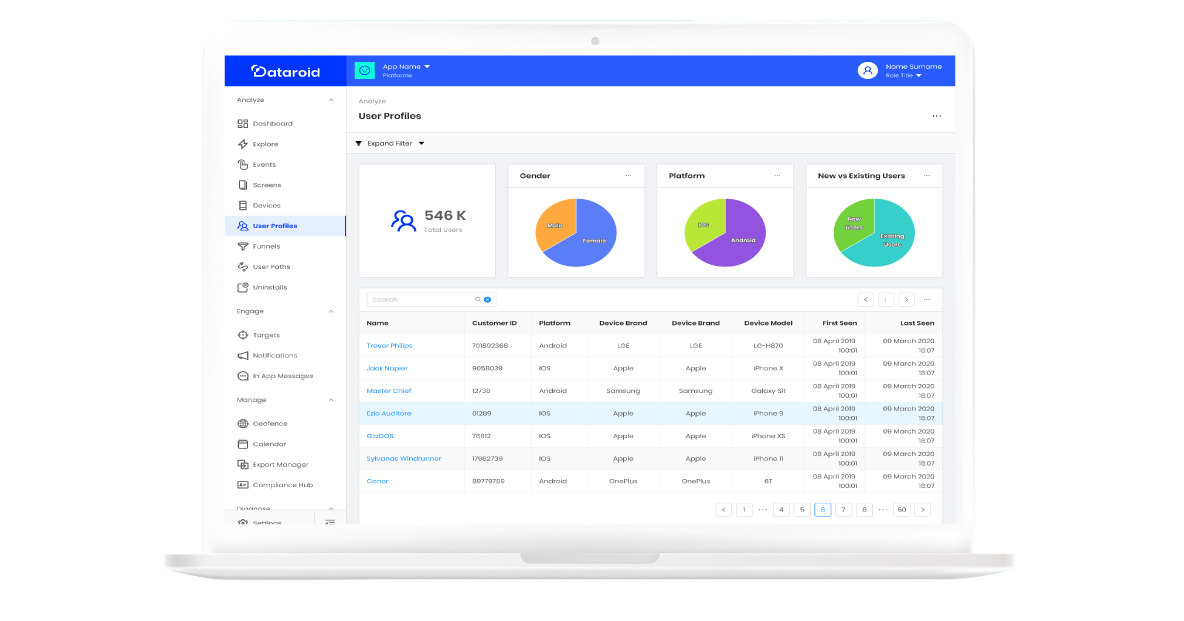 2. Get Insights
Once the data is completely collated, it's put into a customizable metrics dashboard. This dashboard is easy to use and organize in the ways you'd like, with event, screen, and device-based analytics, funnel analytics, user path analytics, uninstallation tracking, and application performance metrics. As you like, these metrics can then be tracked in real time and compared with past transactions. 
3. Take action & engage
From these insights we learn how to target each customer. We understand their behavior, we see their real-time actions, through geo-targeting we send location-based notifications, we understand their devices and operating systems, we know which stage of the lifecycle they're on, and along with their personal data and demographics, we know their likelihood of churn or purchase. With this knowledge, we can send in-app messages, or push messages, or trigger emails and SMS depending on which engagement strategy will work best for each customer's individual needs.
The point is that while the customer only feels a broad emotion toward your product (hopefully a positive emotion!), we now have Dataroid to break down every single tiny interaction that goes into that overall emotion. Not only that, we have the tools to optimize each of those steps, and to analyze how to optimize it for each individual profile. Just as shopping in the digital age is an entirely new ballgame, so is marketing, and the advent of the mobile age means that just about every interaction with your product is now completely trackable and analyzable. But without the right tools and training, you'll be left behind.
Drive your digital growth
Schedule a demo today to learn more on how we can help you unleash the potential of digital using Dataroid.