The MoneyLIVE Autumn Festival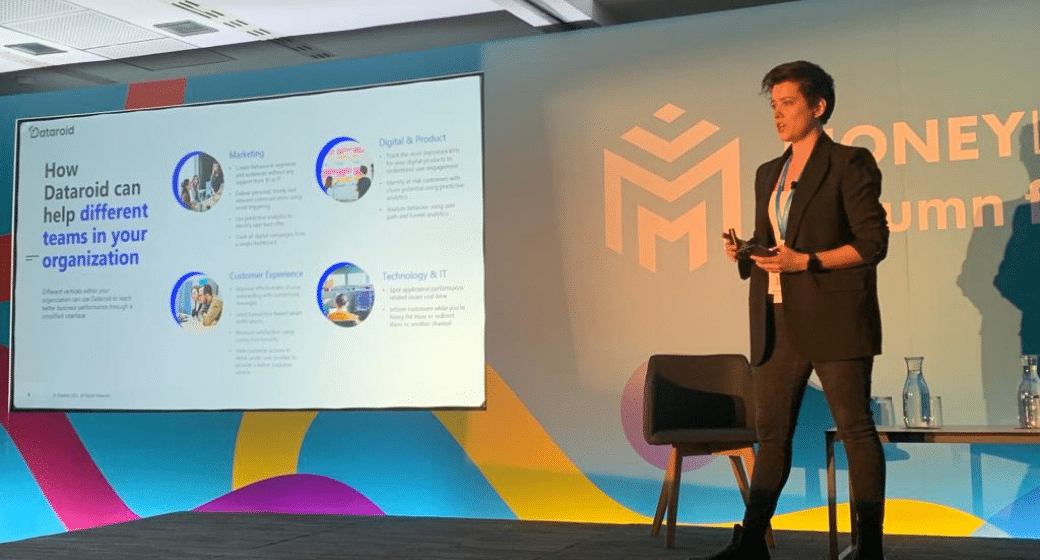 We are thrilled to announce that we were a Bronze Sponsor of the MoneyLIVE Autumn Festival, which took place in Madrid, Spain on 29-30 November. As the leading pan-European banking and payment event, the MoneyLIVE Autumn Festival brought together senior and innovative banking leaders from across Europe to discuss the ground-breaking developments that are transforming the industry today.
Our team was delighted to have the opportunity to present on the topic of 'How to use data to provide a better digital customer experience' during the 3rd Session of Day 1. Kerim Alain Bertrand and Elif Parlak from our team provided insightful perspectives on how data-driven strategies can help companies provide a better digital customer experience.
As a company at the forefront of the industry's transformation, we were excited to sponsor the event and contribute to the ongoing discussions around the next digital revolution, open finance, embedded finance, DeFi and digital currencies, lending transformation, and payments innovation.
Our team was pleased to share our expertise and insights with the audience at the MoneyLIVE Autumn Festival, and we received positive feedback from attendees and industry experts. We believe that events like this are crucial for keeping pace with the latest developments in the industry and fostering innovation. 
For press inquiries contact us at
Drive your digital growth
Schedule a demo today to learn more on how we can help you unleash the potential of digital using Dataroid.