How to create amazing customer omnichannel experiences with omnichannel engagement
Omnichannel management allows you to understand the customer journey with personalization, real-time contextual engagement, and a data driven analysis.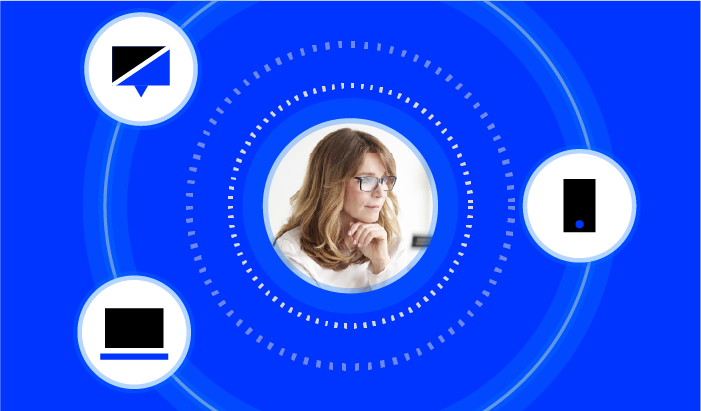 Sign up


to drive your business with the power of data
There's such a plethora of new channels coming out every day of the week it can be difficult to keep track of all of them. Remember back when people thought MySpace would be a thing? Or when people thought TikTok would NOT be a thing? Now, every brand is fighting other brands in their market to see who can capture the next wave. Every market is saturated, and audience profiles are more diverse than ever. This diversity may mean that there's more potential customers, but it also means it's harder than ever to find them.  Gone are the days where locals went to the one single local shop and bought whatever they were offered. There's now infinite spots to shop from, but also infinite means through which people find those shops. 
That's all why 87% of brands have learned that it's critical to engage their customers across a number of different channels. It's not because some customers use one channel and other customers use another. It's because customers themselves are used to living a "multi-channel" existence. In fact, according to PWC, 80% of companies see an omnichannel approach as critical to their business. The International Data Corporation (IDC) has shown that consumers who are engaged using an omnichannel approach reach a 30 percent higher lifetime value over those engaged with just one channel. But let's back up a second, what exactly is omnichannel marketing?
What is Omnichannel marketing?
As referenced above, the customer journey no longer begins and ends on one channel. Customers engage with companies on and across multiple channels, possibly starting their journey on one channel and continuing on another. Customers are more and more accustomed to researching a company and a product, online and/or in person. 
Omnichannel marketing is the name given to the ways in which companies synchronize their message across multiple channels to create a single journey that remains personalized and contextual. This means that technology infrastructure needs to incorporate anywhere from 6 to 20 different points alo